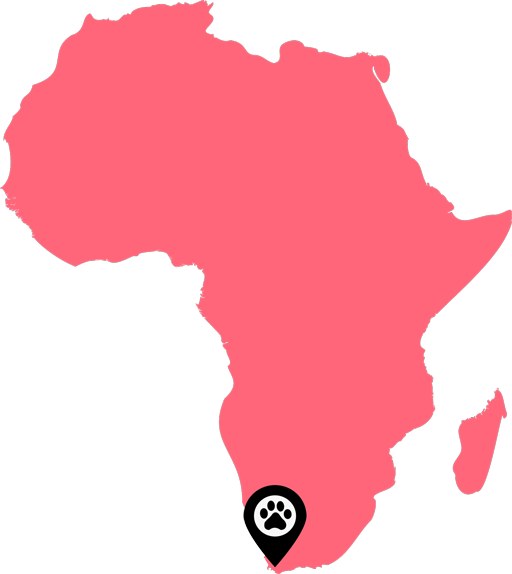 AFRICA'S 

FIRST RESCUE CAT

CAFE
Established in early 2017, Cat Heaven Rescue Cat Cafe, was the first Cat Cafe on the African continent. It is a safe and happy home to 22 rescued non-pedigreed felines. As a non-profit organisation, we aim to increase shelter cat's visibility and to help eliminate pet homelessness through education on rescue, adoption and spay/neuter services. With the highest standards of cleanliness, Cat Heaven invites you to enjoy the physical and emotional benefits of spending time with its residents. While indulging in a selection of treats from our modest kitchen, you can also feed our kitties their favourite food at snack time.
If you do not have the space to foster or adopt a cat, join our unique "Paw Parent Program", and become part of the Cat Heaven family.
Step into one of the most amazing cat themed gift shops and surprise your loved ones with unusual gifts, thereby helping to  feed and support our fur children.
Happy meows
The Cat Heaven Team

REVIEWS
Locsley-Bleau became a paw parent to Sunshine a year ago and since then all the cats and staff of Cat Heaven have become a huge part of our lives! Our weekly visits are always special with the kitties always entertaining us with their antics! The staff are exceptional and truly love their special fur babies which is so evident when one visits! Cat Heaven is a place of love, relaxation and pet therapy.. a truly fantastic cause and we are so blessed to be a part of it
REVIEWS
Stewart, Megan and I have been visiting the cafe since it opened last year. We were so impressed with the concept of cat cafe that we each adopted a kitty in-house as soon as we could. We have been regular visitors since then and love the ambience and peaceful feel of the cafe. It is wonderful to go and sit quietly with the cats and spend calming time with them. We also love getting our weekly photos and gifts on our special days. The coffee and cake is always delicious and the staff friendly. I enjoy taking and sharing photos of the kitties and love being involved as much as I can be. We will continue to be dedicated cat cafe paw-parents, we love it!!
– Alison Rogers
REVIEWS
Purrfect Place for Coffee Cake and Cats 🐈 Please visit this unique and pawsome place for friendly feline encounters. By visiting Cat Heaven you support this unique venture and get to enjoy the perks of peace and Cats. Xxx
– Linsay
REVIEWS
Absolutely love visiting Cat Heaven. My most favourite place. It is an opportunity to engage with kitties in abundance, and there is a lovely cat themed shop, with gorgeous gifts for cat lovers, or those who need a little nudge in that direction 😀
– Eleanor
REVIEWS
If I lived closer I'd visit every day!
– Audrey
REVIEWS
When you are having a bad day and in need of love and cuddles, Cat Heaven is the place to go. You will love spending time with all those beautiful fur-babies and get to enjoy the nibbles as well. A place to relax, unwind and just breathe. The gift shop has the cutest gifts for all ages, it is hard to resist! A visit there won't disappoint ♥
– Amanda
REVIEWS
The best place to go and relax with the best cuddles a person can get from the cats. Cat Heaven is the place to go for some good time with the fur-babies and good service also. The gift shop is very neat and can get great gifts for someone. The people there is very welcoming. It is my favorite place to go.
– Chrismar
REVIEWS
Cat Heaven is truly a wonderful haven for the rescue kitties who have found their forever homes with Val and Paul. The cafe is welcoming, clean and peaceful for both cats and visitors alike. The cats adore love and attention from their visitors! Cat Heaven is well worth a visit, as is the lovely and well stocked Cat themed gift shop on site!
– Alison
REVIEWS
Cat Heaven, my mental Heaven. Super clean, beautify and peaceful. Enjoy the love of kitties with tasty toasted sandwiches, cake, ice cream, tea, coffee or cooldrink. Just sit and enjoy a ambiance and wonderful friendly staff. O if you think it is time to go….you will spend some time in the awesome gift shop. This is indeed a wonderful pease of heaven for rescue kitties. Thank you Val and Paul for creating such a heaven for them and us. 😻🙏🥰
– Maxie
REVIEWS
CATS, Coffee, Cake and then some more CATS. On arriving at Cat Heaven the welcome from those furpaws rushing to the gate is where the excitement begins, on entering the peaceful well decorated enclosure a game of find a chair begins. The morning progresses to to the refreshments for humans and nibbles for the awesome pawsomes. A time we'll spent as many retirement homes do not allow pets and going to Cat Heaven gives us the love and interaction we miss. On leaving one is filled with enchantment on entering the beautiful gift shop. Thank you Cat Heaven for allowing us to share this special time bonding with the furries. Sadly can only visit every second month. 🐾🐾🐾
– Maralyn
REVIEWS
For all those people looking for places to visit in and around Cape Town, the Cat Cafe is a definite "Must visit". Mom and I visit for a hour, and stay for four, then, after a cuppa tea and a snack, we go home with re-fired enthusiasm and peaceful souls, usually with a tasteful and unique "something special" from the beautiful gift shop. Each four-legged child has its own personality and the cats love spending quality time with each visitor. Thank you, Val and Paul, and the paw parents for this lovely place.
– Marinda
REVIEWS
I love going to Cat Heaven ❤️ The staff are amazing with all the cats and the people, the food is always good.
Definitely gives me a generous dose of happiness whenever I go there 🤗
⭐⭐⭐⭐⭐
– Simone
REVIEWS
Cat Heaven is exactly that, a piece of heaven on earth. A beautiful serene setting with friendly staff and where cats come to welcome you as you walk through the gate. Cats, cuddles and cake; spend time with 22 beautiful fur-babies each with their own personalities who love cuddles, playtime and treats. At the same time enjoy something to eat and drink. There is an inside and outside area so weather has no influence. After visiting the fur-babies, a browse through the gift shop is a must. There are amazing cat related gifts for all ages. You leave Cat Heaven relaxed with the desire to visit again soon. Thank you Paul and Val and Paw Foster Parents for making this home for 22 rescue cats possible. From the Foster parents , thank you for heart warming messages from our fur-babies on our birthdays. A visit to Cat Heaven is a must and will never disappoint.
⭐⭐⭐⭐⭐
– Patricia Brink
REVIEWS
I lived in China for 3 years and recently came home, to South Africa, with my two rescue cats, Nalah and Xiaobai (her name means 'small (xiao) white (bai)'). It was quite a process to get them here, and quite an ordeal for them to have travelled all over the world to get here. After we landed in Cape Town, I was doing everything I could think of to make them as comfortable as possible to help them adjust. My friend told me about Cat Café and the wonderful cat toys they sell, and I contacted Valerie. I couldn't go to Somerset West to buy the toys, but she was amazingly kind and generous and send one of her staff to Bellville to bring a bag full of free toys! What a blessing! Her kind and compassionate nature, together with the variety of toys, helped my cats to ease into life in South Africa. These toys were a great stress release and helped connect them again with their playful side. Thank you, Valerie. We carry your kindness and love with us as part of the foundation of a new life. We now live on a farm in Robertson, and my cats are happy and adjusted and we still have our regular playtime. 
Maretha Mc Carty